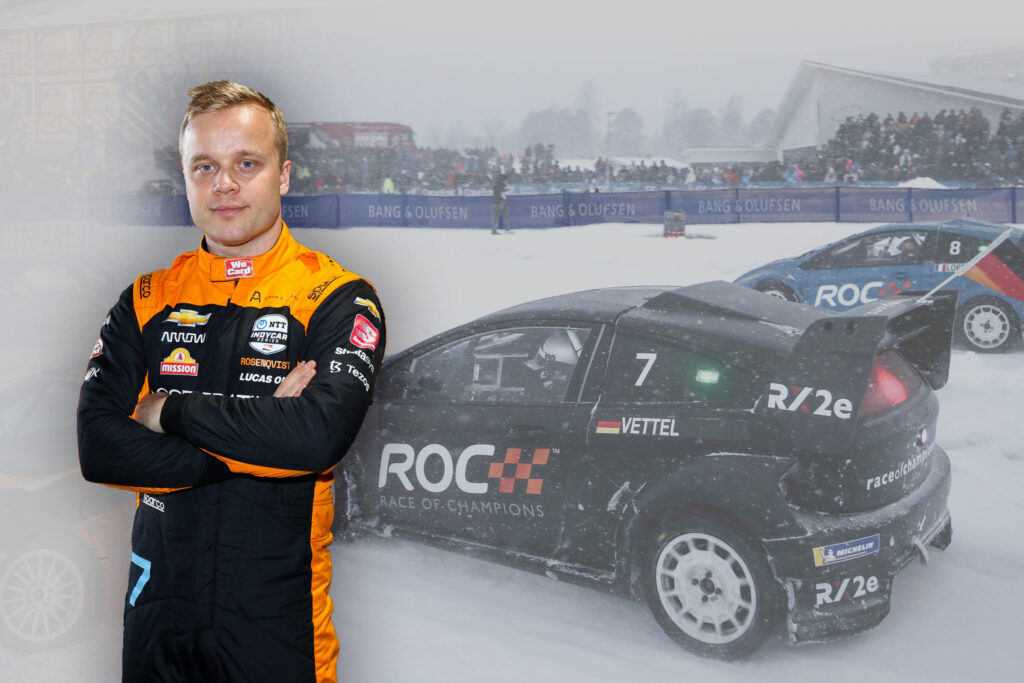 Felix Rosenqvist kommer att debutera i Race of Champions i vinter när den stjärnspäckade motortävlingen avgörs på hemmaplan på svenska Pite Havsbad.
Rosenqvist ansluter till en växande lista av internationella toppnamn klara för start i det årliga all star-evenemanget, bredvid bland andra de båda Formel 1-världsmästarna Sebastian Vettel och Mika Häkkinen, nuvarande F1-föraren Valtteri Bottas, femfaldige rallycrossvärldsmästaren Johan Kristoffersson och rallyprofilerna Petter och Oliver Solberg.

Race of Champions ställer världsförare från olika motorsportgrenar mot varandra i en rad olika bilar, och utkämpas i ett man-mot-man-format på en specialbyggd parallellbana. Tävlingen avgörs genom en serie utslagsomgångar i jakt på den slutlige vinnaren. I fjol vanns tävlingen av niofaldige rallyvärldsmästaren Sébastien Loeb.

Rosenqvist är den förste föraren från NTT INDYCAR SERIES, Amerikas ledande formelbilsmästerskap, att bekräftas för vinterns upplaga av Race of Champions.

– Det känns fantastiskt att äntligen få göra min debut i Race of Champions, säger Felix Rosenqvist. Det är en tävling jag följt varje vinter sedan barnsben, och jag har faktiskt sett den live en gång på Wembley med min pappa för några år sedan. Jag har alltid gillat utmaningen i att köra olika typer av bilar, och min karriär har präglats till stor del av den nyfikenheten. Jag ser verkligen fram emot att få testa ROC-konceptet för första gången och att dessutom göra det på hemmaplan i Sverige!

Premiärupplagan av Race of Champions genomfördes 1988. Sedan dess har tävlingen ägt rum på en uppsjö av ikoniska platser – däribland Stade de France i Paris, Wembley Stadium i London och OS-arenan "Fågelboet" i Peking.

2023 körs tävlingen för andra året i rad på svensk mark på Pite Havsbad, där en snö- och istäckt bana plogas upp inför evenemanget den 28-29 januari.
Felix Rosenqvist kommer att delta i både det individuella Race of Champions och i lagtävlingen ROC Nations Cup, där hans teamkamrat presenteras vid ett senare tillfälle.
Mer information: www.raceofchampions.com

Text & Bild: felixracing.se