Japdays 2021 på Mantorp park stod på kartan i helgen, ett event som undertecknad besökte för andra året i rad.
Vi börjar med vädret, regn regn regn, lite uppehåll och mer regn. Men vet ni vad? Det spelar ingen roll! För Mantorp park fylldes av Japanska bilar, allt från standard modeller till de mest högljudda, bländande blanka, låga bilar du kan tänka dig i alla regnbågens färger och mer därtill. Och vart man än kikade så såg de som längtat efter denna dagen, rätt så nöjda ut ändå.
Det härliga med Japdays (tycker i alla fall jag) är att det är en otroligt härlig blandning av bilar och av händelser under eventet. Du kan välja om du vill ställa ut din bil, köra på bana, drifta, köra terräng, sladda i sladdgården eller varför inte alla varianterna?
Jämfört med förra året märktes det att restriktioner har lättat, det var betydligt fler bilar och besökare på plats. Men trots detta så var det bra koll på avstånd och man kunde röra sig fritt, alltid lika tryggt att hänga på Mantorp park och dessa skyltar gick inte att missa.
Så till eventets första dag, som började det sådär härligt chill. Man strosade runt lite och kände in stämningen, körde den efterlängtade crusingen på banan, som fylldes till bredden under två varv tillsammans med likasinnade i ett riktigt långsamt tempo. Sedan avslutades kvällen med Drive-in bio (The fast and the furious), en riktig klassiker. En riktigt mysig eventdag kort och gott.
Andra dagen rullade bilarna in i jämn takt och fyllde Mantorp park på någon timme, vi stod med vår Honda s2000 i Hondaklubbens monter, precis bredvid läktaren innan pariserkurvan. Och där spenderades nästan hela dagen, för att se både bankörning i två klasser (erfaren samt amatör) och självklart drifting, vilket är min absoluta favorit av alla motorsporter.
För att nämna några av de som bjöd på utmanande drifting i regnvädret, Alex Gjelten, Alfred Grindberg, Peter Antonsson, Christian Erlandsson och en för mig trevlig överraskning, David Skogsby.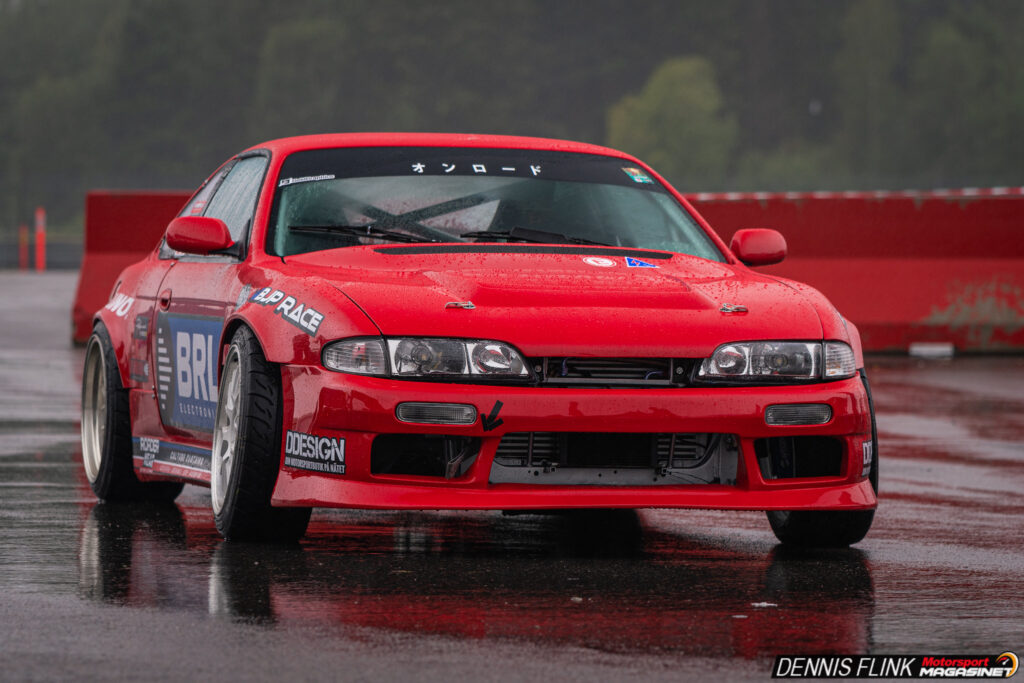 David hade som mål att meka klart det sista på bilen på plats, för att premiärköra på något av dagens Driftingpass, och det lyckades han med. I en intervju med speakern berättade David att han kört drifting i 16 år, men att det är som att vara helt nybörjare igen (inte för att det märktes när han väl körde). Hans Nissan s14, som är byggd tillsammans med samarbetspartnern BRL, har 770whp och 960nm, vilket är perfekt för drifting berättar David. Den har fått en riktigt läcker röd färg som inte är svår att missa.
En fröjd för ögat att se en så pass erfaren förare göra comeback var det i alla fall.
Sedan vet jag faktiskt inte hur det gick, men några rundor fick han till. Under drifting passen på banan bjöd några av förarna dessutom på lite twin-körning, det värmde min driftingtokiga själ.
En annan stor händelse under kvällen var att stiftelsen 'Ellas Hjältar' lottade ut en bil, som de under ett års tid har byggt tillsammans med flertalet olika sponsorer. Alla har kunnat köpa lotter för 100kr styck, 203.000kr lyckades de samla in för att hjälpa barn med familjer som gått igenom något riktigt tufft i livet. Vinnaren blev extremt glad och överraskad när han ringdes upp på plats. Grattis säger vi till Samuel som vann denna läckra Mazda 323.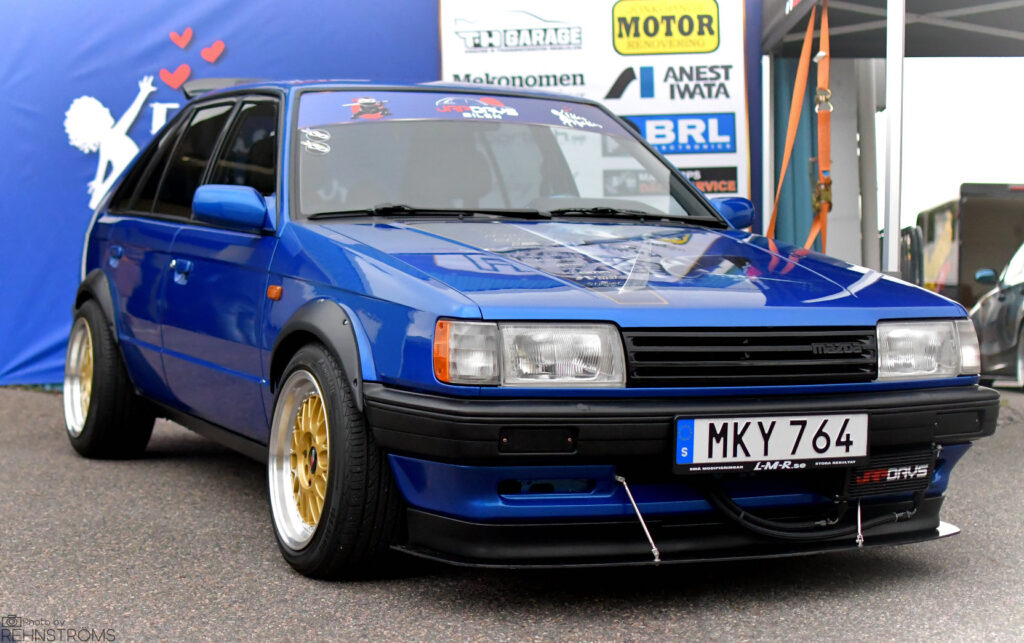 -Lördagen avslutades med prisutdelning i 22 kategorier, där bla priset Best Driftcar delades ut, det tog Alex Gjelten hem med sin orangea Toyota Supra. Ett härligt avslut på ett par regniga men riktigt roliga dagar fulla med japsare. Tack till Mantorp park, alla trevliga besökare och alla ni som engagerar er för att annordna Japdays, ni lyckades igen. På återseende nästa år, då håller vi tummarna för sol och ännu flera brett sladdande bilr på banan.
Text: Nina Rehnström
Foto: Dennis Flink, Nina Rehnström