Nerverna höll och Fredric Aasbø gjorde det som krävdes när Formula Drift 2021 skulle avgöras i den åttonde deltävlingen i The house of drift.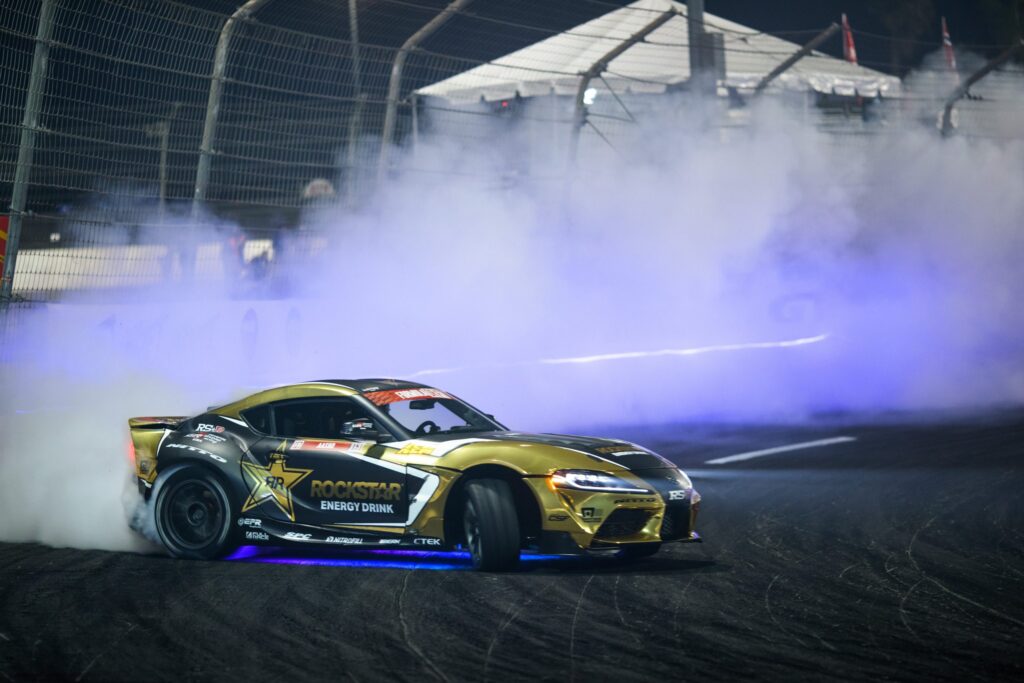 Vi hade förutsättningarna ganska klara för oss inför tävlingen. Tvåan Chelsea Denofa var såklart den största konkurrensen, och om hann vann var Fredric tvungen att vara hans finalpartner för att vinna. Om trean Matt Field vann skulle det också krävas en andraplats.
Men det skulle visa sig att The Norwegian hammer hade alla nerverna på rätta stället. Efter att ha slagtit ut Jonathan Hurst i topp 16 fick han möta teamkollegan Ryan Tuerck i topp 8, en battle han också vann.
Här levde hoppet fortfarande för mästerskapsutmanarna Denofa och Field, som kom att mötas i topp 8. Field vann den battlen och här gällde då att om Fredric förlorade sin topp 4 battle och blev trea eller fyra i tävlingen, så skulle Field vinna mästerskapet. Mycket på spel alltså. Field vinner battlen mot Denofa och går vidare.
Fredric stod i semifinalen mot fjolårsmästaren Vaughn Gittin Jr. Även här gör han en bra battle som räcker till och fjolårsmästaren, som dessutom aviserat att han inte kommer att tävla i FD 2022, åker ut och lägger av en rejäl burnout som tack till publiken. Field möter den fjärdeplacerade Odi Bakchis i topp 4, och förlorar där mot Falken-kollegan Bakchis.
I finalen var det en jämn kamp, som Odi Bakchis vann och han tar därmed andra raka finalvinsten på Irwindale. Fredric Aasbø blir tvåa och Vaughn Gittin Jr trea.
När röken lagt sig står det således klart att Fredric Aasbø är årets Formula Drift-mästere, hans andra mästerskap. Välförtjänt då han varit så nära flera gånger, bland annat under åren när James Deane vann. Aasbø blir nu med i klubben bestående av fem andra förare, som har fler än ett mästerskap, bestående av svenske Samuel Hübinette, Tanner Foust, Vaughn Gittin Jr, Chris Forsberg och James Deane.
På sina egna sociala medier skriver Fredric:
VI GJORDE DET!!!! Formula Drift-mästare 2021!!
Jag grät som jag aldrig har gråtit förut och jag saknade helt ord. Den här betydde så mycket och vi har kämpat SÅ HÅRT i detta startfält fyllt av otrolig talang.
Från djupet av mitt hjärta: Tack till var och en av er som har varit en del av denna resa! LÅT OSS FIRA!!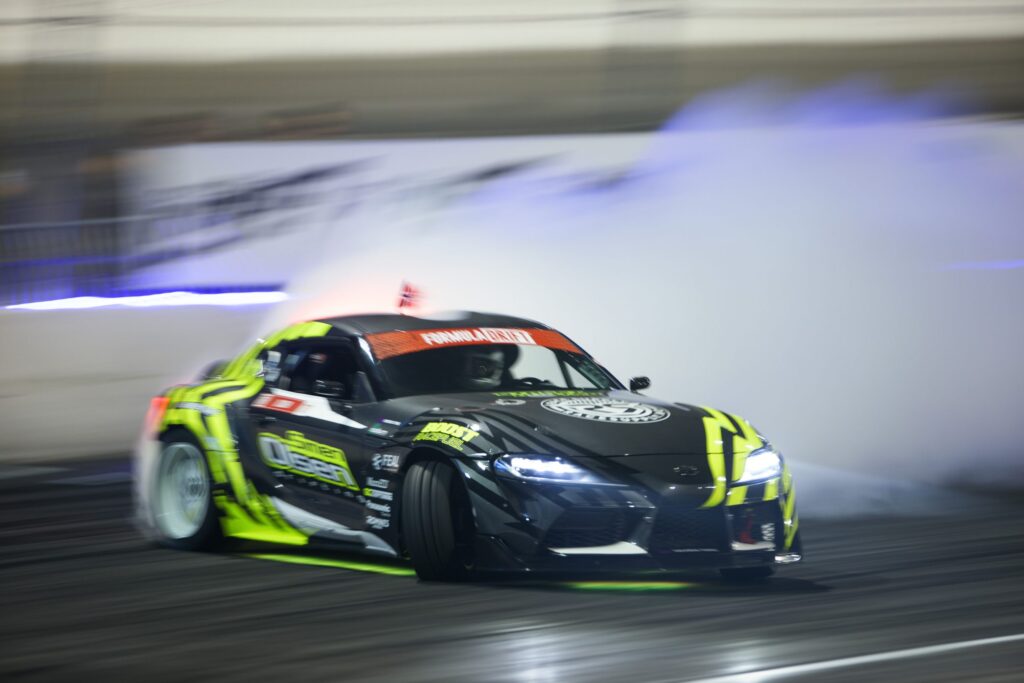 Klart värt att notera är också att det blev som vi hoppades, en dubbel för Norge, då Simen Olsen tog hem titeln som årets Rookie. Han gjorde vad som krävdes och tog sig en omgång längre än ledaren inför sista deltävlingen Branden Sorensen. Stort grattis till Simen och som sagt, en riktigt bedrift av driftingscenen i Norge!
Text: Christer Hägglund
Foto: Larry Chen, Formula Drift