Alexander Boström var en av nykomlingarna i RM 2021. Här får vi veta lite hur han ser på säsongen och vad det blir 2022.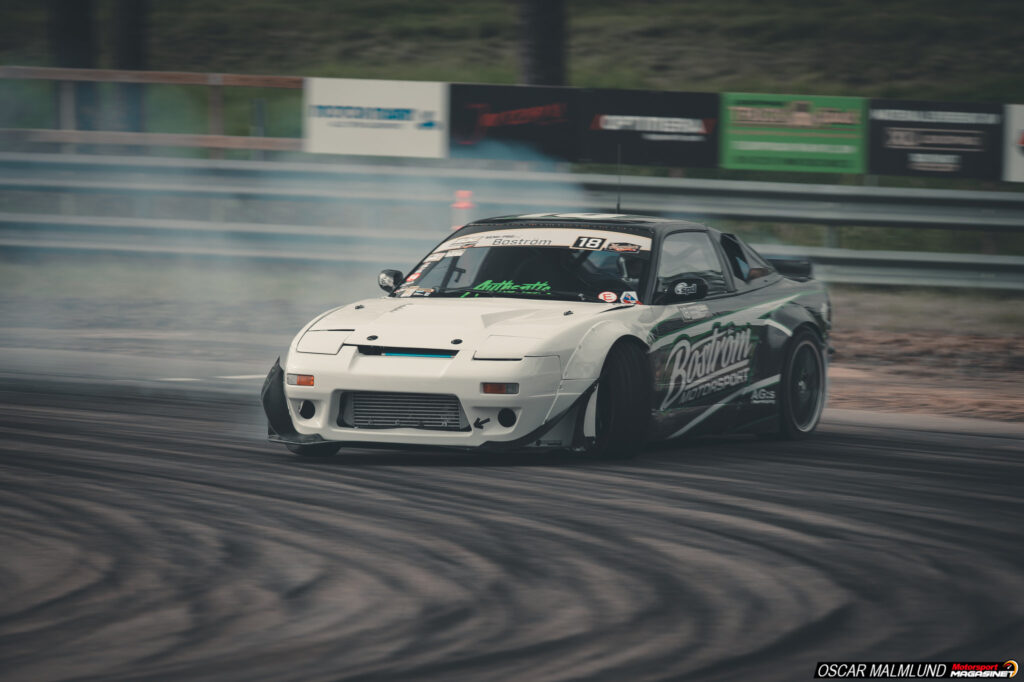 Hur länge har du kört drifting och hur började du?
-Jag har kört tre säsonger. Första sommaren med bilen hyfsat original men med väldigt mycket strul. Jag körde ca 20 varv och en uppsättning däck på sex event. Efter det så ledsnade jag på allt strul med bilen och bestämde mig för att satsa 100% så jag byggde om bilen totalt. Från hösten 2018 till våren 2020 byggde jag om bilen från en tom kaross till en fullt godkänd tävlingsbil. Andra sommaren körde jag ca fem event och 20 däck. Tredje sommaren så tog jag steget och började tävla i semi-Pro i SDC. Jag lyckades köra mig till en fjärdeplats och en tolfteplats. Jag slutade på en tolfteplats totalt trots att jag fick bryta en tävling på grund av ett motorhaveri.
Hur jag kom i på drifting var när jag var 13 och såg Johan Halvarsson köra en uppvisning på en STCC-tävling i Östersund. Det var första gången jag såg drifting på riktigt och någon länka ihop banan på de viset. Jag blev helt såld och tänkte att jag ska också tävla i drifting. Sedan ska man bara våga ta steget. Det var inte förrän jag hörde att Rickard Ivars frågade vad en "clipping point" var på hans första tävling som tanken slog mig att man behöver inte kunna allt på en gång och vara bäst direkt utan man kan växa in i det. Sedan 2018 fick jag ett bra erbjudande på ett vettigt utgångsprojekt. Jag köpte den och sedan den dagen har jag lagt all min tid, pengar och energi på att nå mina mål.
Är du nöjd med säsongen som varit?
-Jo, jag är väldigt nöjd med hur det har gått. Jag är till och med lite stolt över vad vi har lyckats med trots små medel och mycket motgångar. Vi har lärt oss massor! Både som team och jag som förare.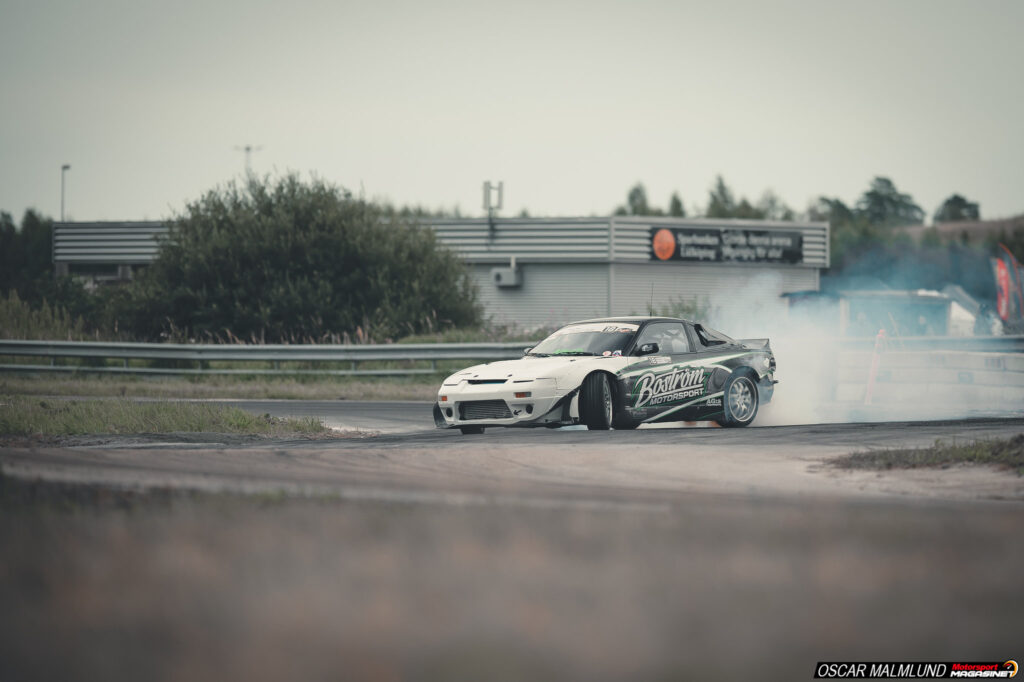 Vilka är dina svaga sidor och hur gör du för att jobba på det?
-Några av mina svaga sidor är att jag har lite svårt att släppa kontrollen och att be om hjälp. Jag håller koll på för mycket under en tävlingshelg. Jag jobbar på det genom att försöka göra listor och ansvarsområden som jag delar ut till mitt team så vet jag att det är någon som tar hand om det. På så vis kan jag släppa det helt och bara fokusera på körningen. En annan svag sida jag har är att jag har kört för lite, jag behöver träna mer. Jag har tyvärr inte haft ekonomi till att köra mer än vad jag har gjort nu. Jag ska försöka få ihop ekonomin bättre i år så jag kan träna mer också.
Hur gör du för att få så mycket sätestid som möjligt, även nu under vintern?
-Nu under vintern så ska jag göra i ordning min brukis (BMW e36) så jag kan nöta lite på isen. Jag ska även sätta i ny växelspak, handbroms och ratt så den är exakt lika dan att köra som min tävlingsbil. Det ska vara så liten skillnad på att åka till affären som att köra på banan som möjligt.
Hur upplever du effektskillnaderna i semi PRO?
-Jag det är ganska stor skillnad på effekt men inte på farten i bilarna. Tack vare våra däck som bara får vara 235 breda så har man ingen nytta av 1000 hk. Jag hade minst effekt av alla på Mantorp men kom fyra. Då hade jag 445whp. Nu åker jag med 560whp och det känns optimalt tycker jag.
Finns det tillräckligt med sponsorer och samarbetspartners för att tävla 2022?
-Just nu så har jag verkligen inte tillräckligt. Vi kommer tillbaka till det här med att be om hjälp. Det är jobbigt. 2021 körde jag helt från egen plånbok och rabatter hos olika företag. Jag måste försöka jobba hårdare på den biten för det håller inte i längden. Jag jobbar för fullt med att komma på en bra lösning där jag kan sälja in en produkt/ samarbete/ upplevelse hos företag. Jag vill inte bara tigga pengar utan jag vill att företagarna ska känna att dom verkligen får ut något av det.
Vad planerar du att köra 2022?
-2022 kommer jag köra semi-pro. Jag är inte redo varken ekonomiskt eller körningsmässigt för att gå upp en klass. Jag är här för att göra en långsiktig satsning och kommer successivt jobba mig uppåt ihop med mitt team och samarbetspartners.
Text: Oscar Malmlund
Foto: Oscar Malmlund