Den 1-3 juli så kör Timeattacknu.se sin tredje deltävling, under denna helg i juli så ska det även bestämmas vem som tar hem titeln King of Mantorp.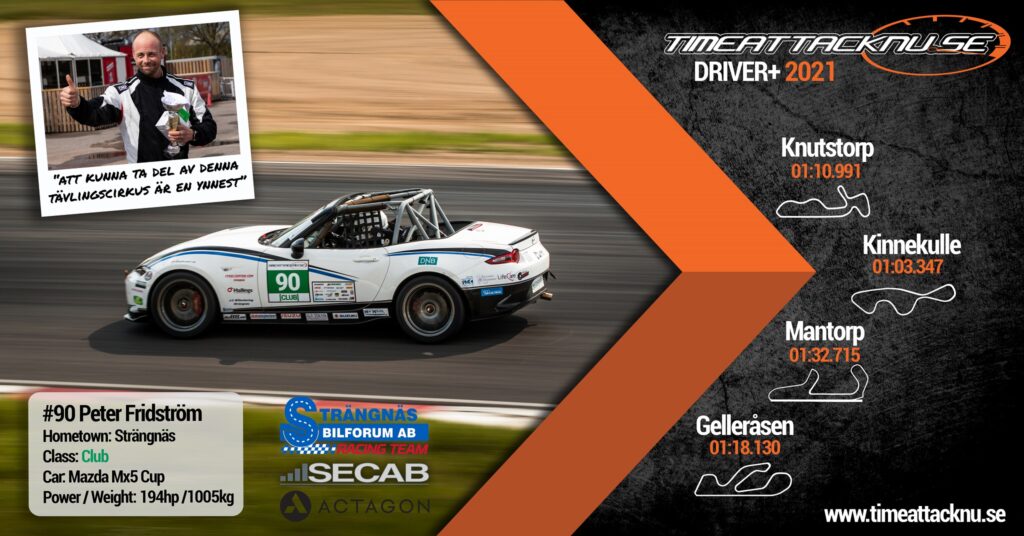 Timeattacknu.se kör alltså sin tredje deltävling, denna gång på Mantorp Park. Utöver den deltävlingen så kör man även en tävling under TA Testdagen som är den 1 juli. Tävlingen kallas för "King of Mantorp" – Årets höjdpunkt i Time Attack och ett öppet event för alla att delta i.
King of Mantorp körs alltå på fredagen och är ett såkallat superlap event, där förarna får ett utvarv och ett attackvarv för att visa vem som är snabbast i sina respektive klasser.
När lördagen då kommer, så är det dags för deltvling 3 i serien. Dagen bjuder på race i club samt club challenge klasserna, samt kval och B finaler för de övriga klasserna.
När vi nu tittar i tabellen för de olika klasserna så ser vi en del saker. I Club så leder Peter Fridström på 70 poäng i sin Mazda mx5, tvåa är Eric Eriksson med sin BMW M235i på 51 poäng. Daniel Rosenblom är trea med sin Toyota Yaris GR på 47 poäng.
Peter har här ett övertag med 19 poäng ner till tvåan Eric Eriksson, däremot så är glappet mellan tvåan och trean Daniel Rosenblom betydligt mindre, det skiljer sig 4 poäng. Peter är ruskigt snabb i sin Mazda mx5, och om bilen får fungera 100% under helgen. Så är risken stor att han utökar ännu mer. Eric och Daniel kommer såklart jaga Peter med allt de har.
I Club Challenge så har Fredrik Gehammar visat klart vad han vill, han kör för vinst och leder med 70 poäng i sin Honda Civic. Tvåa är Philip Olofsson med 56 poäng, trea finner vi Johan Hwasser på 40 poäng.
Fredrik är ruskigt snabb i sin Honda Civic och han har kopplat ett grepp om mästerskapet, men han nämde också i förra deltävlingen, att något i framvagnen inte kändes bra. Så om Fredrik inte har hittat felet, så kan det skapa större möjligheter till Philip som då istället kanske kan knappa in poängen med vinst.
Pro Street klassen leds av Håkan Backlund med 69 poäng före tvåan Ville Gustafsson med 47 poäng, trea är Robert Johansson med 35 poäng.
Här är det Håkan som har fördelar med sin ledning. Däremot så, är både Ville och Robert snabba, och de har inte stoppat jakten. Bim Dawson som hade tekniska problem i första deltävlingen, kommer nu till sin favoritbana och vill såklart jaga rätt på många poäng.
PRO klassen leds av Robin Antonson på 65 poäng, tvåa är Susanne Weleen med 41 poäng, trea är Henrik Rydberg med 24 poäng.
Henrik hade förhoppningar om att sätta nytt personbästa på Kinnekulle Ring. Men en skjuten packning till turbon stoppade de planerna, nu är han tillbaka och motorn är återställd. Och målet på Mantorp är såklart ett nytt personbästa.
I Pro Mod så leder Johnny Nilsson med sin Corvette på 65 poäng, tvåa är Robin Antonson med 41 poäng och trea är Susanne Weleen med 29 poäng.
Här har Johnny kopplat ett bra grepp, men Robin som är tvåa kan man inte räkna bort. Får Johnny bekymmer under tävlingen, så finns risken att han tappar poäng och Robin kan minska försprånget.
Unlimited klassen är det kanske tätt i täten där Johnny Nilsson leder på 63 poäng, tvåa är Ben O'Donnell med 54 poäng. Här är det bara 9 poäng som skiljer ettan och tvåan. Minsta misstag i fel läge kan ge Ben fördelar inför finalen.
Många av ledarna i alla klasser har fördelar med rätt stort försprång. Dock är inte försprånget så stort, händer något med bilen och ledarna inte tar poäng så kan tabellerna snabbt ändras.
Ska bli intressant att följa nu i helgen och se om sammandragen förändras!
Text: Henrik Andersson
Bild: timeattacknu.se